French Drain Systems Keep Your OH and IN Home's Basement Dry
Customized French Drain Systems For Any Water Problem!
A perimeter drainage system with a sump pump, installed around the outer edge of your basement, is the most effective way to control and eliminate basement flooding.
The Basement Doctor of Cincinnati can provide our customers with a complete drainage system and do it speedily too! Many times, an entire system can be installed in just one or two days.
Contact us by phone or e-mail today! Customers in our service area can receive a free, no-obligation, French drain installation quote.
A System For Any Situation!
Hammers work best when used with nails. You get the best results when you use a screwdriver to drive screws. There are specific tools that work best in certain situations. Using the same drainage system for all basement water problems is not the way to go. Each basement waterproofing problem we encounter calls for its own answer.
Every Basement Systems drainage system is designed to overcome the challenge that appears; be it structural, design, or natural.
There are five French drain systems we offer: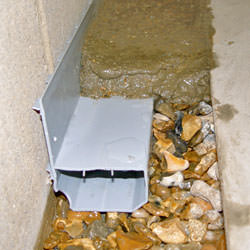 WaterGuard® Below-Floor Drain
In a standard basement situation, our WaterGuard® drainage system is the perfect solution to combat wetness. It is designed to rest under the flooring slab but not in the "mud zone" where it would clog with dirt and debris. This is done by having the drain system rest on top of the foundation footing.
First, a section of the floor all around the outside edge of the basement is dug up. This trench then has a layer of crushed stone placed in it followed by sections of WaterGuard®.
A layer of cement is applied over the drain, making the installation nearly invisible, except for a small lip or flange that extends over the new floor. This flange collects the water that leaks down from the walls.
Here's more information on our WaterGuard® Below-Floor Drain.
---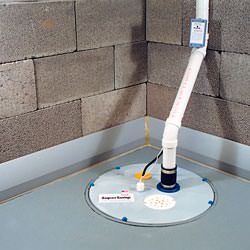 DryTrak® Baseboard Drain Pipe
The make-up of most basement foundations consists of three pieces; the walls, the floor, and the footing. Most foundations come in three pieces: walls, floor, and footing. Another kind of foundation called a monolithic foundation has the floor and footing joined in one piece with the walls forming a separate installation.
The extra thick flooring found in monolithic foundations mean that in order to have some drains put in, there would need to be a lot of jackhammering.
To avoid the dirt, dust, and debris produced by breaking-up a fair amount of concrete, our DryTrak® Baseboard Drain Pipe System is recommended. This innovative drainage system is put in on top of the floor, foregoing all the concrete removal and mess.
Here's more information on our DryTrak® Drain Pipe
---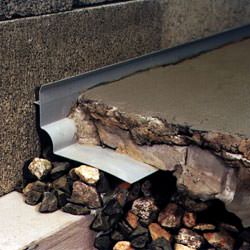 FlowGuard® Thin Floor Drain System
When the floor of a cellar is too thin for the installation of a drain to rest on the footing, we offer the FlowGuard Thin Floor System.
This system installs in front of the footing on a bed of crushed, drainage stone and is covered with cement, restoring the even level of the flooring.
The FlowGuard system, like our other draining systems, has the extending wall flange that collects wall water into the drain.
Here's more information on our FlowGuard Drain System
---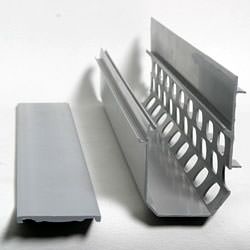 WaterGuard® IOS Perimeter Drain
The presence of iron bacteria in the water will make an orange-y brown slime called "iron ochre".
Iron ochre has a foul odor, stains everything it comes in contact with and will clog basement drains.
When our experts encounter an iron ochre problem, we suggest using our WaterGuard® IOS Basement Drain. It is very similar in design to our basic WaterGuard® drains with the exception of the IOS drains have three slight differences. The IOS has a wider drain channel, a removable lid for easy cleaning, and bigger drain openings.
Here's more information on our WaterGuard® IOS Perimeter Drain
---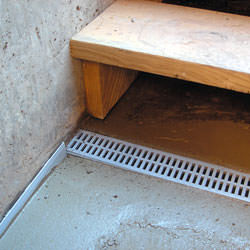 TrenchDrain™ Grated Drainage Pipe
Water can leak into a basement through a number of openings. This includes basement hatches, doorways, and stairwells.
The area that spans the leaking opening is then equipped with our TrenchDrain Grated Draining Pipe. This open-topped drain is grated to allow flood water to enter and be channeled into the perimeter drain system.
And with our other drainage systems, the TrenchDrain is compatible with our sump pump systems and also with our radon mitigation system.
Here's more information on our TrenchDrain Drainage Pipe
Let Us Customize A French Drain System For Your Home!
No matter how your house was constructed or what kinds of problems you're facing, our waterproofing products can be combined to create a solution that's ideal for you!
The Basement Systems line of drainage products has been used in systems for hundreds of thousands of homes worldwide! To learn more about how our system can work for you, contact us by phone or e-mail today for a free basement waterproofing quote!
We provide services to homeowners located in all areas of the United States and Canada. Our Free Estimates include an on-site inspection and consultation, as well as a written cost quote and a copy of our full-color waterproofing book.
Looking for a price? Get a no cost, no obligation free estimate.